The H&P Way
"The H&P Way" defines our purpose, core values, and the behaviors that drive our culture. What we do is anchored in our purpose, improving lives through efficient and responsible energy. How we conduct business at H&P is guided, first and foremost, by our values:
Actively C.A.R.E.
We treat one another with respect. We care about each other. We are committed to Controlling and Removing Exposures for ourselves and others.
Service Attitude
We do our part and more for those around us. We consider the needs of others and provide solutions to meet their needs.
Innovative Spirit
We constantly work to improve and try new approaches. We make decisions with the long-term view in mind.
Teamwork
We listen to one another and work toward a common goal. We collaborate to achieve results and focus on success for our customers and shareholders.
Do the Right Thing
We are honest and transparent. We tackle tough situations and speak up when needed.
We are dedicated to maintaining and building upon a work environment that enables our employees and our organization to thrive and grow. H&P's values are reflected in our Code of Business Conduct and Ethics, which sets forth our expectations and requirements for employee behavior. Each H&P employee is expected to understand the importance of these shared values and be committed to upholding them.
Compliance with our Code of Business Conduct and Ethics and laws applicable to our business, include:
Commitment to provide equal opportunity employment and a workplace free of discriminatory practices

Accountability, where each individual has responsibility for meeting our Code's requirements and taking action when needed, including reporting

Emphasizing and requiring proper business practices that comply with the Foreign Corrupt Practices Act and applicable trade controls and anti-boycott laws, rules, and regulations

Taking responsibility for personal safety, the safety of fellow employees and others on location and the environment
Diversity, Equity & Inclusion
"The H&P Way" embodies our commitment to recognizing and supporting inclusion and diversity throughout the organization. H&P seeks the continued development of a diverse and inclusive workforce through the execution of our Diversity Equity and Inclusion (DE&I) strategy which includes the formation, implementation, and support of Employee Resource Groups (ERG) and monitoring data and metrics associated with our workforce makeup.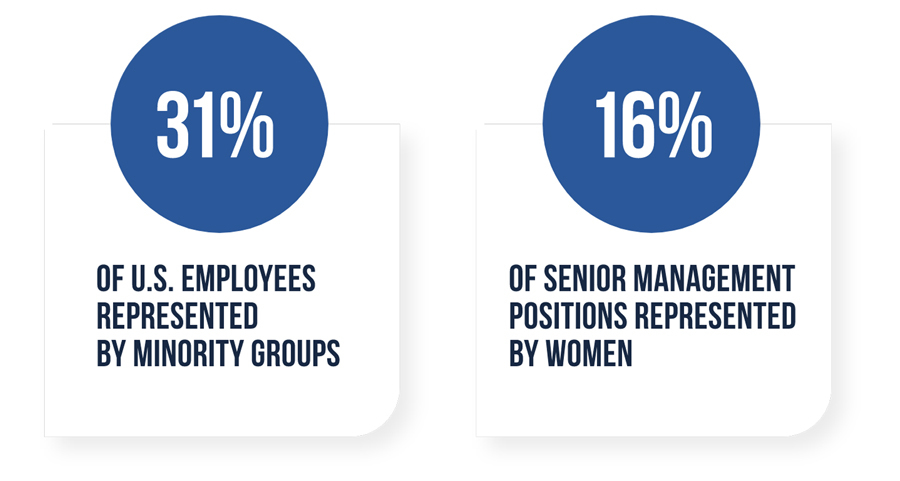 The strategy is designed to continuously evolve H&P into a more diverse and inclusive workplace. We recognize that creating a culture that supports varying backgrounds, cultures and industries not only improves each employee's experience, but also supports a high-performing environment through the incorporation of different perspectives.
The main objective of our strategy is to foster inclusivity with an active mindfulness for differences, acceptance and respect for all employees. This includes efforts focused on attracting, training, developing, and retaining diverse talent.
H&P established a DE&I Advisory Council, a group of employees with diverse backgrounds and experiences, to help execute the strategy, listen to input provided by employees and stakeholders, and provide input and advice to senior management on issues and communications that might impact employees. The council meets regularly to not only advance the ongoing efforts within the strategy, but to assist with further embedding DE&I into the H&Ps culture. The council has formed specialty subgroups to help execute specific portions of the strategy.
These subgroups include:
Connecting with Field Employees Subgroup

Training Subgroup

Data & Metrics Subgroup
Women of H&P
H&P is also developing a process to create, implement and support Employee Resource Groups (ERG) in an effort to invest in, connect and develop employees with common experiences and interests. The first ERG formed at H&P was the Women of H&P. This group is currently comprised of 143 members and includes women and allies from across the company.
Women of H&P's core mission is outlined below:
Empower women professionals within the organization to advocate for themselves, their team members, and the business

Promote the interests of women employees in driving business objectives, strategy, and culture

Retain and develop women at H&P by providing exposure, networking communities, and development opportunities

Promote cultural awareness within H&P in alignment with business objectives
Additionally, understanding our employee demographics is a critical part of our DE&I strategy. In doing so, we can help create an environment where all employees know that their unique skills, experiences and identities are valued.

A Commitment to Ongoing Training and Development
At H&P, we're dedicated to ongoing training and development, which enables our employees to be prepared and grow throughout their career. Our training and development programs promote organic growth through development of future managers and leaders from within our organization. For new employees, training starts with onboarding and orientation, which includes a focus on safety, responsibility, ethical conduct, inclusive teamwork and other aspects that may be important to an employee's job at H&P-whether in an office, or in the field.
H&P's strong commitment to our employees' growth is demonstrated through our formal organizational development team which oversees talent management, training and development. In addition to career and safety training efforts, the team creates, manages and implements enhancements to development and succession plans, change management initiatives and DE&I programs.
A Benefits Package that Prioritizes Health and Wellness
With a focus on employee health and financial wellness, our robust benefits package includes (but is not limited to):
Medical, dental and vision insurance for all full-time employees, and all part-time employees working more than 20 hours per week, and their dependents

A 401(k) plan with company match incentive for all full-time employees, and all part-time employees working more than 20 hours per week

The Foreign Corrupt Practices Act, trade controls and anti-boycott training for appropriate employees

Employer paid life insurance benefits which include a life assistance program, identity theft protection and travel assistance plan

Commitment to an incident-free work environment

The Employee Assistance Program which offers wellness support with counseling, legal assistance, financial coaching, and identity theft resolution

The H&P Way fund which provides financial assistance to H&P employees during unavoidable emergencies

Employee discounts for phone, computer, personal vehicle, car rental and hotel purchases

An Educational Assistance Plan, which offers reimbursement of tuition fees for any employee pursuing an undergraduate degree and, in some cases, post-graduate degrees
Investing in Future Generations: The Phyllis Dotson Scholarship Program
H&P recognizes the value of investing in our future. The Phyllis Dotson Scholarship Program offers children of H&P employees an opportunity to continue to learn and grow through higher education.
Phyllis Dotson and her husband George Dotson – a long-standing (and now retired) employee at H&P – both have a passion for educating young adults. H&P strives to continue that legacy. The Phyllis Dotson Scholarship Program is open to children of all H&P employees, both domestic and international, and all scholarships are granted without regard to race, color, creed, religion, sexual orientation, age, gender, disability or national origin. Since 1999, scholarships have been provided to the children of more than 100 H&P employees. Each application undergoes an independent third-party review from outside the organization.