Controlling and Removing Exposures (C.A.R.E.)
H&P is committed to creating a value-based culture highlighted by an Actively Caring workforce. We strive to Actively C.A.R.E. for:
our own safety and health

the safety and health of others

the protection of our environment
Fundamental to our Actively Caring culture is every individual's willingness to provide immediate open feedback to others regarding safe and unsafe work practices and to proactively correct recognized exposures that threaten health and safety. Through coaching and accountability, H&P educates employees on the negative consequences of health, safety, and environmental exposures. Our goal is to prevent harm to our employees, customers, third parties, and the environment. We accomplish this by promoting a culture where every employee is expected to Control and Remove Exposures both on and off the job. Our success is measured by demonstrated action and continuous improvement.
Promoting a proactive health & safety strategy
The customary measure of safety success in the drilling industry is the absence of OSHA recordable injuries; declining lost time, restricted duty and medical treatment cases; declining Total Recordable Injury Rates (TRIR); and the number of active rig years worked without an OSHA recordable injury, lost-time, or disabling injury. In 2016, H&P realized that measuring safety success by way of TRIR did not always lead to the desired safety outcomes and diminished management's efforts to build trust with field employees.
Management re-defined safety success at H&P as the Control and Removal of Exposures (C.A.R.E.) and encouraged employees to not only report near miss incidents with serious, life-altering or fatal injury potential (SIFs) but also Actively C.A.R.E. by identifying and reporting serious injury exposures.

High-value learning events are an important way to identify areas to make safety improvements that could prevent life altering injuries. H&P's health and safety data shows that just 10-15% of all OSHA recordable injuries are high-value learning events involving serious injury or fatal exposures. The same data also shows SIF potential rates provide 1.5x more high-value learning instances than the traditional Total Recordable Injury Rates (TRIR) giving us more opportunity to learn and improve. At H&P, we focus on both the actual and potential SIF incidents that are considered high value learning events to more effectively remove exposures. H&P believes that utilizing these SIF metrics to track and continuously improve demonstrates a proactive approach to mitigating serious injuries and fatalities versus other methods which report incidents after-the-fact.
SIF Actual

An incident in which there was an actual life-altering, life-threatening, or fatal injury.

SIF Potential

An incident in which the potential was there for a life-altering, life-threatening or fatal injury.

SIF Mitigated

An incident in which the potential was there for a life-altering, life-threatening or fatal injury but the potential was mitigated due to an intended barrier or control being in place.
Although H&P tracks traditional safety metrics such as Total Recordable Injury Rates (TRIR) and Lost Time Injury Rates (LTIR), our primary focus is on SIF prevention and tracking the data associated with our SIF program. We promote safety through the Control and Removal of Exposures – especially exposures that have the potential to cause life-altering, life-threatening, or life-ending harm. While H&P has proactively pursued its SIF prevention strategy, we have seen a 40% decline in potentially serious injury incidents and a 25% reduction in TRIR and LTIR.
Since implementing the SIF strategy in 2016, H&P has worked 1,300 active rig years equivalent without a fatality, our longest ever. The industry average over the last five years has been one death for every 300 rig years.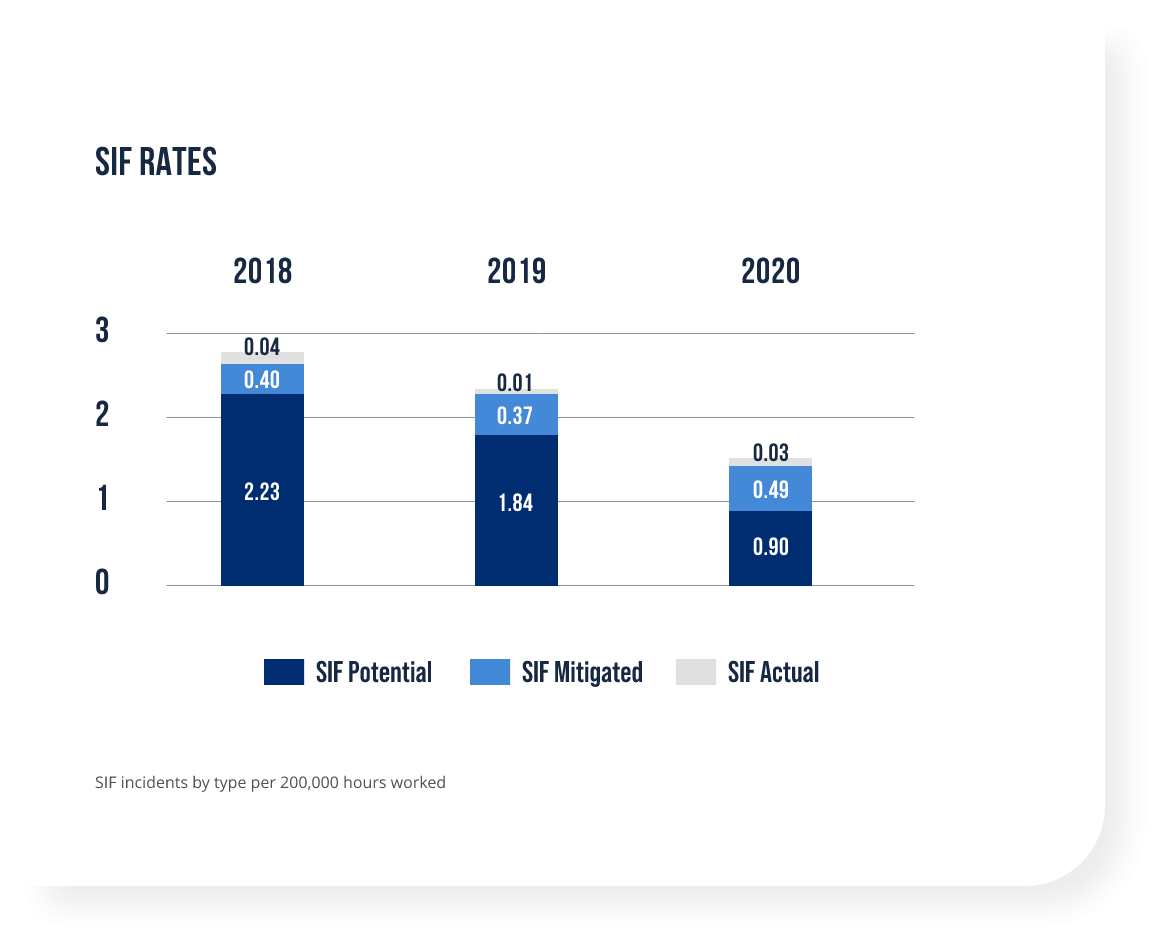 Targets & Goals
Actively C.A.R.E. Goals
Within our safety program, we focus on objectives (Actively C.A.R.E. Goals) that will reduce serious injuries and fatalities. Our Safety Leadership Team (SLT) evaluates annual health, safety, environmental (HSE) data, and employee feedback to identify the greatest exposures to our employees and others and establish objectives to address the identified exposures. The SLT oversees the execution of these goals by established cross-functional teams and provides a progress report to our Executive Leadership Team (ELT), which includes the CEO, on a monthly basis.
Our ELT is active in their management of health and safety, and our Board of Directors is active in its oversight. H&P's management reports to our Board of Directors (at least quarterly) on safety efforts, such as:
Data on safety training – number and types of training by job type

Data on safety awards made to employees for their proactive efforts to control and remove workplace exposures BEFORE any incident occurs

Data showing seatbelt use among employees

Data showing incident and accident rates relative to industry data—including serious injury rates (SIF), total recordable incident rate (TRIR) and lost time incident rate (LTIR)
Internal safety performance targets are integrated into our executive compensation program to ensure incentives are aligned with our commitment to safety.
2020 ACG Successes
2020 ACGs showed success in several critical safety areas as compared to 2019. The successes are highlighted by the following improvements:

Tubular handling SIF rate decreased by 37%
Dropped objects SIF rate decreased by 16%
Mitigation of SIF dropped objects increased by 42%
Since the rollout of FlexCheck (pre-job planning tool used for SIF critical tasks) in January 2020, there was a 25% reduction in SIF incidents that had pre-job planning as a contributing factor
Reduce SIF incidents in rig move activities by 50% compared to 2020

Reduce SIF incidents involving dropped objects by 33% compared to 2020

Reduce SIF incidents in tubular handling operations by 33% compared to 2020

Reduce our environmental impact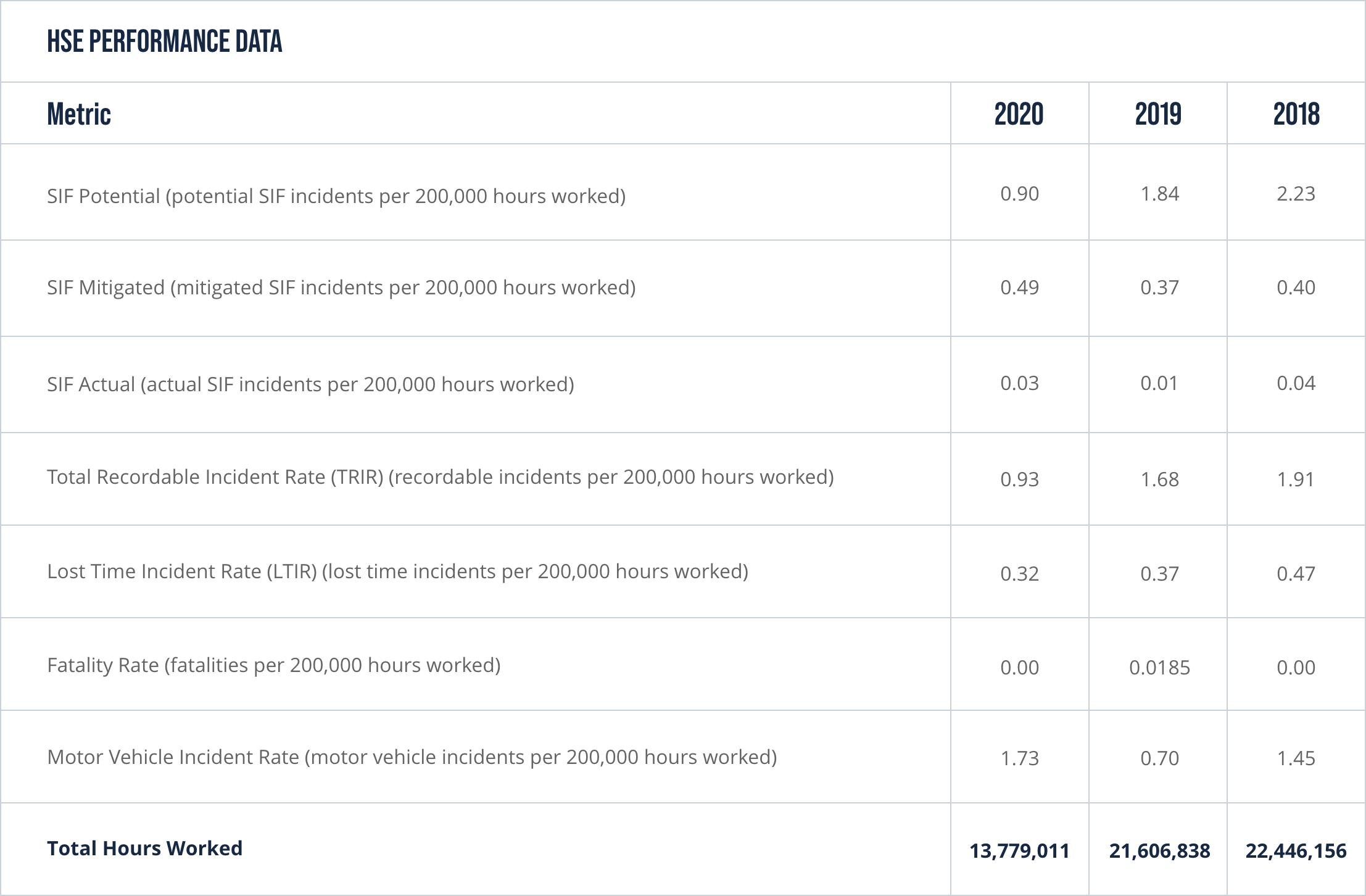 Health and Safety Certifications
H&P uses a variety of external reviews and certifications to inform, benchmark, and confirm that our health and safety practices and quality management systems are at best practice levels. These include:
HSE training is International Association of Drilling Contractors (IADC) Rig Pass accredited

Quality control vetting of HSE policies and procedures by customer-selected third parties

ISO 9001 certification for the provision of management support for certain oil and gas contract drilling services, including (but not limited to) the following processes:

Health, safety and environmental
Preventative maintenance
Supply chain management
Offshore training
Although these various independent third-party certifications and/or benchmarks are important, we pride ourselves on creating best practices from which our customers, other industry participants, and certifying bodies can learn.
Safety Design & Remote Monitoring
Safety by Design
As part of our Safety by Design program, a team of experts—comprised of engineers, operations personnel, Health, Safety & Environment staff and external fabrication experts—was tasked with designing rigs with safety as one of the most important variables.
This company-wide program—Safety by Design—brings focus to protecting our workers and customers, by:
Identifying hazards and working to eliminate them in the design phase

Using leading-edge technology to enhance efficiency while also reducing the potential of exposures and lowering health & safety risks

Standardizing designs that can reduce the variability in the types of rigs we use so that our employees have the greatest familiarity with them

Designing and configuring loads and interconnects with rig moves in mind, further minimizing risks
Since the roll out of H&P's Safety by Design program, we have sold or decommissioned our mechanical rigs as we have added the redesigned, safety-embedded, A.C. drive rigs to our fleet.
Remote Operating Centers: Rig Systems Monitoring and Support (RSMS)
H&P has in place a group of professional technicians who—in support of our field operations—monitor every domestic and international FlexRig, 24 hours a day, seven days a week, from our Remote Operations Center in Tulsa, Oklahoma.
A central information hub, the RSMS is responsible for maintaining, monitoring and supporting every domestic and international FlexRig at H&P. The RSMS and Drilling Performance Teams are staffed with systems technicians and experienced field personnel who partner with our rig teams to troubleshoot rig events and drilling performance issues, and leverage knowledge from experts throughout the company. Experienced personnel also monitor safety critical alarms and perform daily safety performance and data analysis throughout the fleet.
Committed to providing best-in-class field operations