Environmental Stewardship
Although our greatest exposures revolve around safety, we're committed more broadly to operating in a clean, safe and environmentally responsible manner. Our Health, Safety and Environment (HSE) teams monitor and make efforts to minimize any potentially negative environmental impacts. The HSE function at H&P is staffed by professionals who report into our management-and-board oversight functions.

Minimizing Impact Beyond Drilling
As a drilling solutions provider, our role in the oil and gas industry is to provide drilling and technology solutions for our customers. And although we can't control environmental efforts throughout the entire value chain—from exploration, drilling, completions, production, processing, midstream, downstream, and end use consumption — we do have the ability to design and operate our rigs and employ new technologies that minimize the environmental impact of drilling operations. Our operational and technological experience combined with our rig design help our customers minimize operational costs and risks, and reduce the environmental impacts associated with producing oil and gas.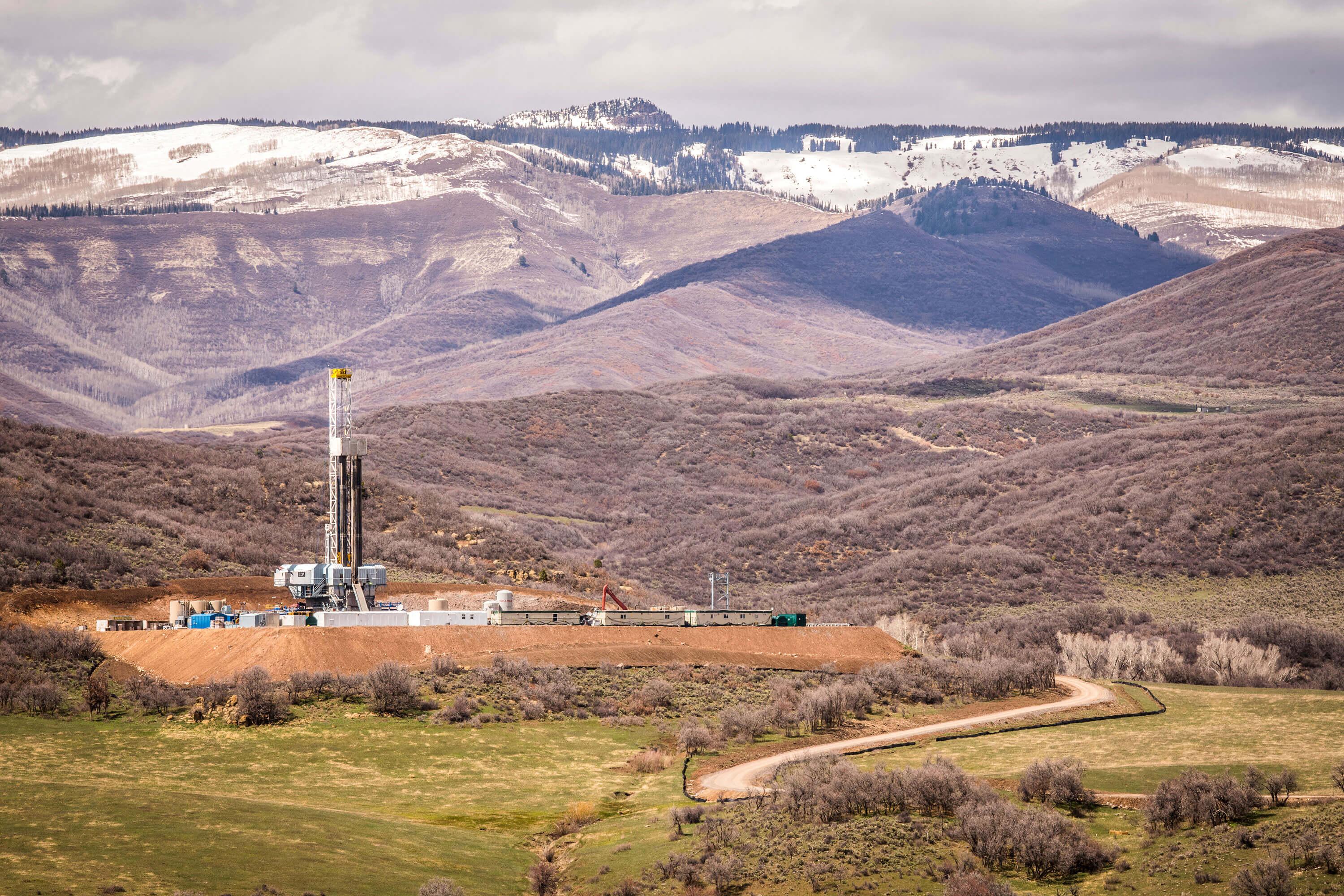 Operational Impact
Carbon Dioxide Emissions
Even before the advent of the AC FlexRig in 2002, H&P has a history of taking thoughtful methodical approaches to solving problems. Our approach to understanding, tracking and ultimately reducing our environmental impacts is no different.
We utilize our substantial data collection ability to monitor our CO2 releases from our largest sources of emissions: rig engines and fleet vehicles. Using these data points at frequencies of up to one second, we can calculate our emissions.
Based on the data we have collected and reviewed, H&P's CO2 emissions have decreased per kilometer drilled by more than 11% over the past three years.
Performance Data
Commitments to GHG Reduction
We are committed to reducing the impacts most associated to climate change. Although one of our core values, Actively C.A.R.E. (controlling and removing exposures), is centered around promoting employee health and safety, it also extends to controlling and removing exposures to the environment. Each year, we publish Actively C.A.R.E. Goals ("ACGs") focused on removing our greatest safety exposures. In 2021, we introduced an environmental goal under the umbrella of ACGs. Within this goal, we set targets for our two main CO2 sources, rig engines and fleet vehicles. We believe that achievement of these targets in calendar year 2021 should help us reduce our CO2 emissions by over 2,350 metric tons.

In addition to our focus on emission sources, we engaged our employees with training and recognition programs centered on the environment. We support and reward our employees for their efforts that lead to environmental improvements such as continued emission reductions and actions that help achieve our ACG targets. As our ACG targets imply, we see opportunities for reductions coming from engine usage efficiency. Our customers often direct the level to which or energy output required of our rigs during drilling operations, which dictates the emissions produced. Accordingly, we will continue to engage with our customers during the planning and drilling of the well to find solutions so that mutual commitments to emission reduction can be achieved.


Footnotes: (1) - Excess engine runtime is defined as any time engines are running for more than two hours when fewer engines could run and not exceed 100% load. (2) - Fleet vehicle idle time is measured as any time a vehicle is on and has not moved for more than five minutes.
Quantify All Scope 1 & 2 Emissions

Reduce Excess Rig Engine Runtime by 10% (1)

Reduce Fleet Vehicle Idle Time by 33% (2)

Establish an Environmental Rewards & Recognition Program

Achieve 100% completion rate for Environmental Training
Waste Management
H&P is committed to reducing waste in the Company's current and future operations. We use a variety of recycling and other initiatives in our facilities and operations to minimize waste, such as minimizing the volumes of lubricants stored at drill sites and extending the life of lubricants through use of condition monitoring and enhanced filtration technologies. Such measures not only benefit the environment, but also drive better economic decisions and outcomes as well.
Further, each rig utilizes Spill Prevention, Control, and Countermeasure ("SPCC") plans as a proactive method to help prevent spills and minimize the environmental impact if a spill occurs. Risk prevention initiatives also include training rig crews on spill prevention and emergency spill response procedures and maintaining fully stocked emergency response kits at drill sites to effectively contain any spills and prevent flow off of drill sites into waterways or other environmentally sensitive areas.
Technology
Reducing Surface Footprint and Biodiversity Impacts through Technology
H&P is committed to operations that are safe and that minimize impact to the environment. Given H&P's role as a service company, our customers oversee the biodiversity impacts at the sites where we operate. However, we recognize biodiversity management is critical and we are working with our customers to minimize drilling operation impacts. For example, reduced well site footprints help to minimize the impact on the environment and local communities both directly—via the reduction of land areas affected, and indirectly—by reducing the number of employees required, including the impacts on local infrastructure (including reduced traffic).
Technological advances, both mechanical and digital, are driving our business forward, and as a leader in utilizing data to drive design and performance, H&P continues to make investments to remain at the forefront of innovation in the industry. Our technological innovations and expertise help our customers to produce more energy per area of land impacted.
The benefit of our technological advances is best demonstrated by comparing our present activity with the past. In 2020, we drilled only a modest number of kilometers over the amount drilled in 2011. Yet the number of kilometers drilled in 2020 was achieved with half the number of rigs that were used to drill a similar number of kilometers in 2011, therefore importantly reducing overall emissions.
Alternative Fuels
We offer solutions which utilize different fuels to power our rigs including standard diesel, natural gas supplementation (dual fuel), natural gas and the capability to tap into standard grid electricity for customers who wish to remove on-site stationary combustion. There are both positive and negative environmental impacts for each fuel configuration used. Some fuels help reduce the Environmental Protection Agency's ("EPA") regulated emissions such as NO2 (nitrogen dioxide) and SO2 (sulfur dioxide) but may increase greenhouse gas emissions ("GHG") due to CH4 (methane) slip from an engines inability to completely combust the natural gas. Each alternative fuel offering has benefits designed for our customers' specific applications and desired financial and environmental outcomes.
Partnering for Success
We work with our customers to implement specific solutions to meet their sustainability needs. In addition to the above described standard power sources, we are working to develop solutions to deliver hybrid energy to power our rigs. Utilizing energy storage technology as another alternative can lead to the reduction of rig site combustion engines yet still meet the demands of drilling.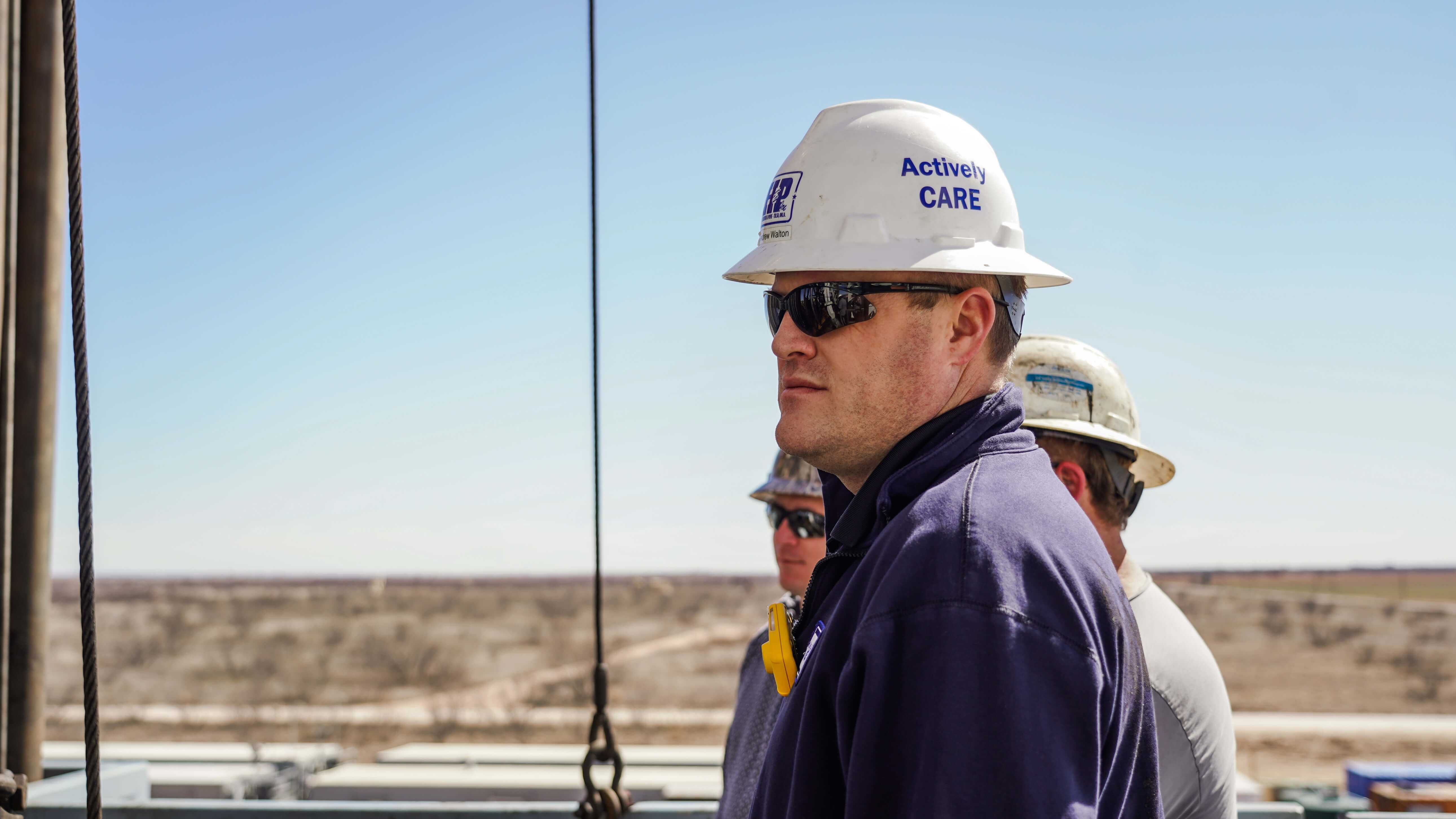 Environmental Management
Environmental Management System
H&P's Environmental Management System (EMS) is designed to formulate environmental policies and provide guidance to employees. The Company's EMS represents our commitment to meet or exceed relevant environmental legislation, regulations and client requirements, comply with industry accepted environmental practices, implement practical processes to aid in reducing our environmental impact, and continual improvement. Our EMS outlines how we assess and identify environmental exposures and ultimately how controls and goals are put in place to impart a positive impact on them.
Biodiversity & Conservancy
At sites where biodiversity management is critical for our customers, a smaller footprint is increasingly important. In addition, reduced footprints help to minimize the impact on local environments and communities, both directly—via the reduction of land areas affected, and indirectly—by reducing the number of employees required, including the impacts on local infrastructure (including reduced traffic). We are committed to minimizing ecological harm where we operate. As a part of our land and biodiversity preservation goals, H&P also supports The Nature Conservancy at the Corporate Conservator level, whose mission is "conserving the lands and waters on which all life depends".
Crisis and Emergency Management (CEM)
Although it is our goal, at all times, to minimize the chance of any environmental hazards and safety risks, we are prepared to respond if an event occurs that has the potential to negatively impact our employees, facilities, operations or environment.
Emergency Management and Crisis Response Plan (EMCRP)

H&P's EMCRP helps to ensure we have the ability to respond to the most severe adverse situations or crises. Designed to work in coordination with other H&P response plans, the EMCRP provides an overarching framework and response structure to assist H&P personnel in managing a potential or actual crisis. We believe that having the right structure, teams and processes in place better prepares us to meet employee, customer, company, and community commitments.

H&P's EMCRP is based on the following:
National Incident Management System (NIMS) - Incident Command System

Federal Emergency Management Agency's (FEMA's) Comprehensive Preparedness Guide

The National Fire Protection Association (NFPA) 1600 Standard on Disaster - Emergency Management and Business Continuity Programs Research
Crisis Management Team
H&P's Global Security Director, in coordination with the H&P Crisis Management Team (CMT) is responsible for developing, maintaining and updating the Emergency Management and Crisis Response Plan. The H&P CMT is comprised of H&P executives and senior management personnel who oversee the corporate strategy in response to a significant event or crisis. Rig sites, offices and other local facilities—in coordination with the CMT and Corporate Support Team (CST)—establish the Incident Management Team (IRT) and the Site Emergency Response Teams (SERTs) as needed, to lead local crisis and emergency response operations for H&P. The Audit Committee of our Board of Directors receives an update at least quarterly from our Global Security Director.
H&P also has a hotline that can be used by employees or non-employees to confidentially report compliance concerns that, if escalated to emergency level, are reported immediately to the relevant incident and crisis management teams.
Training: Emergency Preparedness and Response
For the EMCRP to be effective, it must be accompanied by regular and comprehensive training. The CMT is responsible for developing and implementing H&P's emergency preparedness and response training program. The team works with the Corporate Support Team, District/Country Incident Management Teams (IMT) and Site Emergency Response Teams (SERTs) to execute the training program, which includes:
New team member and role specific training

Fire-life safety training

Tabletop exercises
CMT in Action

The CMT provides a critical level of emergency support. Not only is this group responsible for developing and maintaining the EMCRP, but also delegating authority to other crisis teams (CST, IRT and SERTs) and developing and maintaining protocols for external stakeholder communications should an emergency event occur. H&P's EMCRP was put into action in March 2020 as a response to the COVID-19 global pandemic. The health and safety of all H&P stakeholders – our employees, customers, and vendors – are a top priority at the Company. Accordingly, through the CMT the Company quickly implemented additional policies and procedures with respect to COVID-19 designed to protect the well-being of our stakeholders and to minimize the impact of the virus on our ongoing operations.
Emergencies and crisis management events also carry financial implications as well, sometimes severe; the COVID-19 global pandemic was a prime example. At the outset of the pandemic in the U.S., the CMT took swift actions from a financial perspective to preserve the Company's strong financial position during the pandemic and the concurrent sharp reduction in oil prices.