If you have been around Helmerich & Payne for any period of time, no doubt you have heard the term. Actively C.A.R.E.® is one of our Core Values and has been a part of H&P's culture for decades. The idea that we care for our coworkers, customers, and the communities in which we operate is a fundamental principle by which we operate across the globe today. Especially in the drilling industry, we demonstrate how we Actively C.A.R.E by addressing exposures that could result in Serious Injuries and Fatalities (SIFs).
A Wake-up Call
Prior to 2015, H&P had used historical metrics, including Total Recordable Incident Rate (TRIR), to identify HSE performance. However, in late 2014, we had two serious events within two weeks that caused us to take a hard look at how we were measuring safety. "Having two fatalities in such a short period of time really challenged us to reevaluate our HSE processes and ultimately resulted in a completely new safety management philosophy at H&P," says H&P Director of HSE, Micah Backlund.
A Fresh Start
After completing an intensive study on our HSE strategy, a new behavior-based safety program was built from the ground up, with a focus on providing tools to Control And Remove Exposures that could cause SIFs in the workplace. We coined this philosophy based on the intent behind it: Actively C.A.R.E. While we still recognize the value of TRIR (Bureau of Labor Statistics tutorial) and use it as an HSE metric, we view it as a lagging indicator. As part of our new strategy, we established SIF as the leading indicator for HSE performance.
Actively C.A.R.E. for Yourself and Others
As an organization we continue to try to separate people from hazards through processes, training, and technology. Let's look at an example of a dropped object hazard.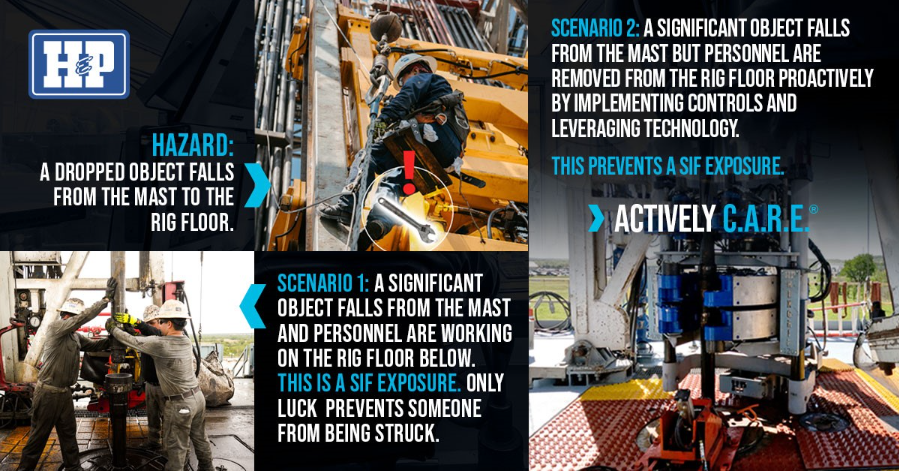 Should we have a hazard in the workplace, we continue to implement additional tools to reduce or even eliminate the chance that an employee is exposed to the hazard, with the idea that if we fail, we fail safely! 
Although H&P's Actively C.A.R.E. program focuses on workplace exposures, it extends beyond that so that ultimately it influences nearly every aspect of our lives on and off the job.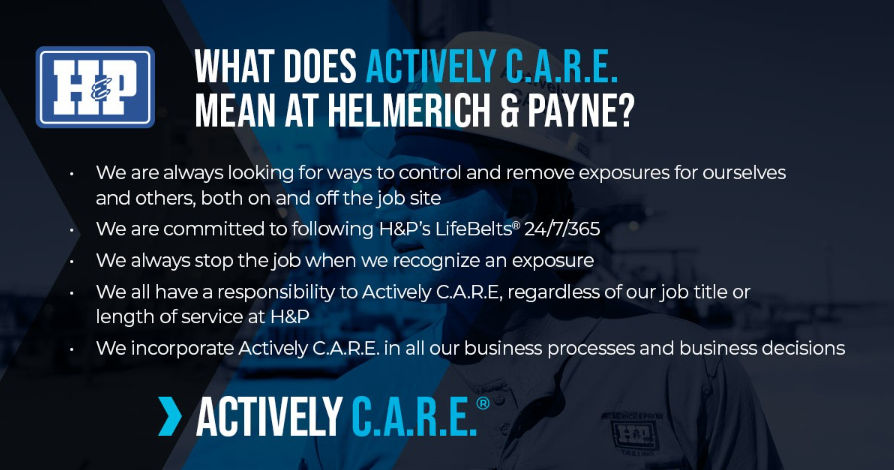 As we move forward together, we remain committed to developing a stronger culture of Actively C.A.R.E. at H&P.
To be successful in this endeavor, it will require the engagement by of all our employees, customers and vendors in our C.A.R.E. processes. Our goal at H&P is to prevent harm to our employees, our community, and the environment, while creating value for all stakeholders.
That's how we define safety at H&P.