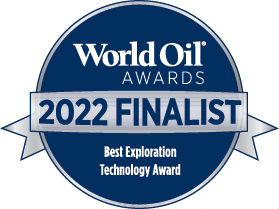 Proud to be finalist in Best Exploration Technology category for the 2022 World Oil Awards.
MAXIMIZING RESERVOIR CONTACT
Maximizing reservoir contact in unconventional laterals and horizontal drilling requires several moving parts across engineering and geology teams. With so much uncertainty in both the actual bottomhole location of the well, and the location of the payzone, staying on target can become a moving target.
H&P's Automated Geosteering solution removes the manual burden of correlating gamma ray logs and instead uses real- time measurements of geological properties to update the well plan instantly, helping ensure that the borehole accesses the correct geology.
As our industry continues to innovate and automate, eliminating once manual tasks, there will also be a reduction in inconsistencies due to human variability. Reliable interpretations translate to maximized reservoir contact and substantial production gains.
Integrated drilling and geology platform allows you to quickly respond to unexpected geology

Automated interpretations remove subjectivity and enable more consistent results