Real-Time Intelligence Enables Proactive Decisions For Better PROJECT OVERVIEW Drilling Outcomes in the Travis Peak
Challenge
The Travis Peak is a set of interbedded formations in the Haynesville shale with rock strengths that vary from 7 to <20 kpsi in terms of compressive strength. Operators drilling in this formation are all too familiar with the uncertainty this reservoir presents and that if not drilled carefully with the ability to proactively respond to the challenges presented, can cause excessive wear, cutter damage and ultimately lead to early bit failure.

One such operator drilling in this area reached out to H&P to design a specialized drilling program where a transition would be made to controlleddepth-of-cut drilling prior to encountering the Travis Peak in order to ensure proper bit engagement and extend drilling life. For the first well on the pad, the challenge remained that the exact depth the Travis Peak would come in was unknown. Adjusting the drilling parameters too early could lead to slower than needed drilling in earlier formations, while failure to adjust in time could result in premature bit failure and an unnecessary trip. Combating uncertainty with a holistic suite of advanced solutions was critical to delivering the best possible outcome for the operator.

Solution
To enable accurate execution of the drilling roadmap, key gamma markers were identified prior to drilling that would indicate if the Travis Peak true depth was different from that projected in the geological prognosis. H&P's automated Formation Top Detection algorithm identified these markers in real-time as drilling commenced, providing an early warning to whether the drilling roadmap needed to be adjusted deeper or shallower as the Travis Peak was approached. This combination allowed for confident, proactive drilling while minimizing the risk of accidental bit damage.
Outcome
As the intermediate section was being drilled, the key formation tops were detected as coming in much shallower than the geological prognosis had predicted. As a result of this real-time intelligence, the operator was able to quickly switch to depth-of-cut drilling 100 feet earlier than had been originally planned. This change was key, as the Travis Peak actually came in 95 feet shallow. By quickly reacting to the gamma data, unnecessary bit damage was avoided and a possible extra trip was saved. The roadmaps for additional wells on this pad were then updated with this new information to help ensure there won't be any future surprises.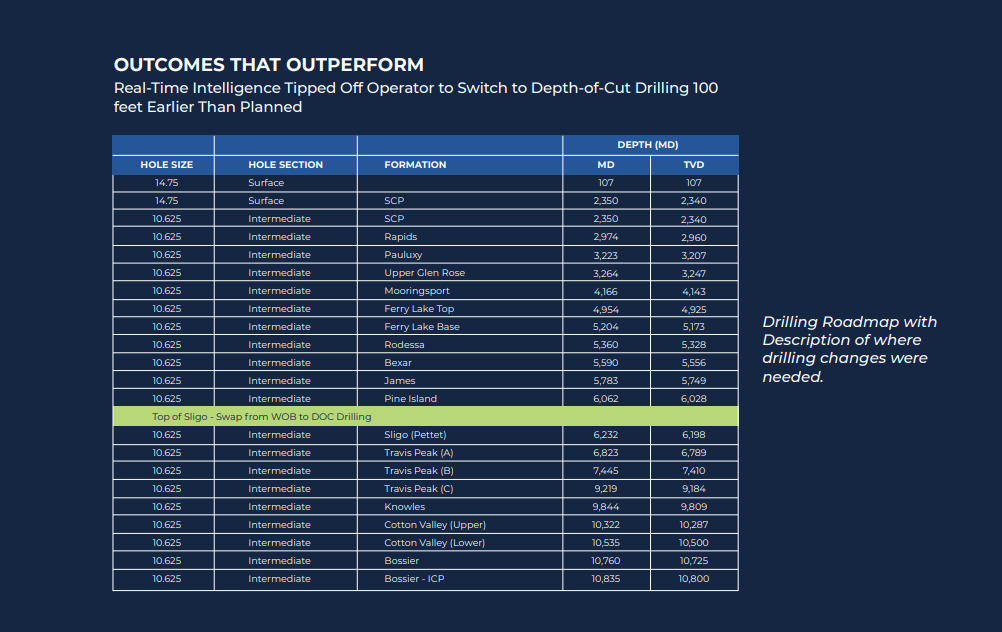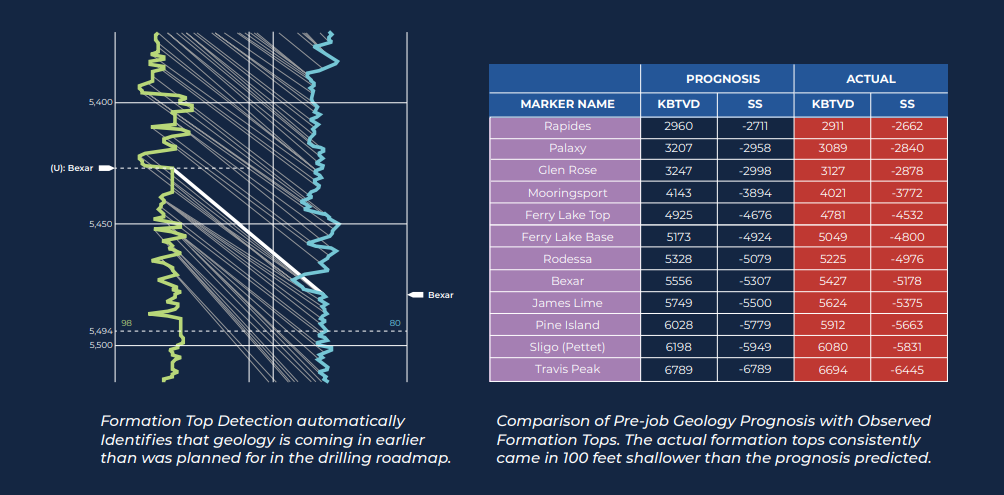 Past performance is not a guarantee of future results. Any statements regarding past performance are not guarantees of future performance and actual results may differ materially. © 07/2021 HPCS011