We've all heard it's important to write down your goals. Did you know that statistically you're 42% more likely to achieve any goal by simply writing it down? At H&P, we encourage writing down personal and professional goals, and we also believe in setting goals for the organization. But we can't stop after that first step!
Organizational goals set clear expectations of company priorities. We're all familiar with the quote, "If everything is a priority, then nothing is a priority." Without clear expectations, how can you hold one another accountable? Accountability and clear expectations are key to successful team results (see our Transforming Feedback and Accountability article Here).
Let's follow the progression of H&P's yearly Actively C.A.R.E. Goals to see why each of these steps are important.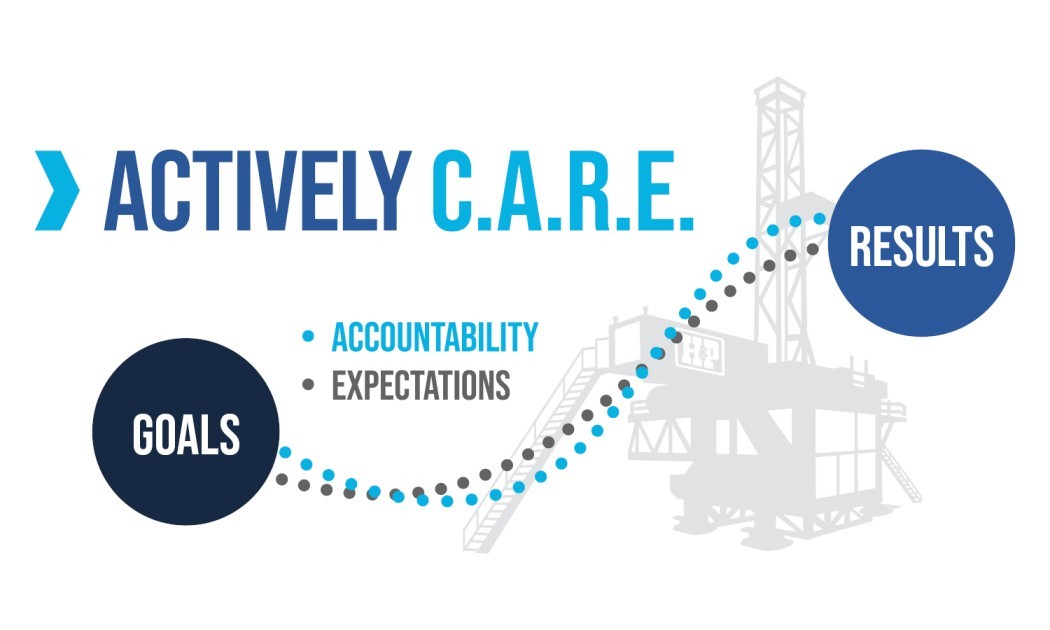 Whether you're on a rig, in a vehicle, or in an office, safety always comes first. The expectation is a culture focused on safety and environmental stewardship. Each year as we build out actionable goals for the year ahead, a team is dedicated to setting the goals, communicating the expectations, and holding teams accountable – with the intent of delivering quality, meaningful results.
Goals
At H&P, our Safety Leadership Team (SLT) is comprised of representatives across multiple departments and all business units. Their multidisciplinary perspective uniquely qualifies the group to have a direct influence on controlling and removing serious injury or fatality (SIF) exposures at H&P locations around the world.
By analyzing HSE data, reports, and feedback from field operations, the SLT uses this critical information to establish H&P's Actively C.A.R.E. Goals for the upcoming year. Once the prioritized safety and environmental goals are set, cross-functional steering teams are formed and chaired by SLT members.
Expectations
Continuous collaboration ensures strategic and tactical alignment, and expectations across H&P while representing all stakeholders impacted by the development, implementation and sustainability of core HSE processes. Ensuring effective communication of the expectations is key. As goals are more frequently and intentionally cascaded across all levels of the company, from weekly tactical meetings to everyday conversations, it becomes an essential expectation to prioritize the goal.
Accountability
The SLT also monitors key safety metrics, removes organizational barriers to change and success, and monitors and supports the effectiveness of Actively C.A.R.E. Goals, particularly at the rig level. Their successful outcomes continue to cultivate and sustain a culture of safety that sets a high standard for reducing exposure. The progress achieved with each year informs future goals as continuous improvement is pursued across the company.
Results
Setting and achieving goals is not just a personal or individual endeavor; it's a collective effort that resonates throughout an entire organization. At H&P, we understand the significance of this principle, as exemplified by our Safety Leadership Team's commitment to Actively C.A.R.E. Goals. By prioritizing safety, establishing clear expectations, and fostering a culture of accountability, we've seen remarkable results in our quest for a safer and more environmentally responsible workplace.
As we move forward, let us all remember the transformative power of setting and pursuing our objectives. Whether on the rig, behind the wheel, or in the office, the journey to success begins with a well-defined destination. By embracing these principles, we can not only enhance safety and environmental stewardship but also achieve greater heights in every facet of our professional lives. Together, we can achieve success by setting goals and making our shared vision a reality.